1."Away from home" - I wrote this song after ending a long term relationship several years ago.I was feeling very alone. This song is really a prayer to the Divine for comfort and guidance.
2."Follow the wind" - This song is about awakening to and following our deeper, spiritual, true Self.
3."It's you" - I respect and support anyone in whatever their positive religious or spiritual practice may be. My own path has been more of the metaphysical and experiencial approach to spiritual unfoldment. I am a student of (amongst other things) the life and deeper teachings of the great master Yeshua otherwise know by his greek name as Jesus. This song is to him.
4."Choose again" - My daughter Leira collaborated with me on the lyrics for this song.It's about realizing that no matter how many mistakes we have made (or will make) or how hopeless we may feel, we can always choose again. It's never too late. There is ALWAYS another and better choice.
5."From east to west" - I wrote this song to honor all of the great spiritual teachers that have come to America from the east. I wonder sometimes where we would be as a country without the compassion and wisdom that they have imparted to us so abundantly over the last century. Thank you!
6."A new dream" - The title of this instrumental is a phrase from Toltec philosophy which means to dream this world we are experiencing in a new, peaceful and joyful way.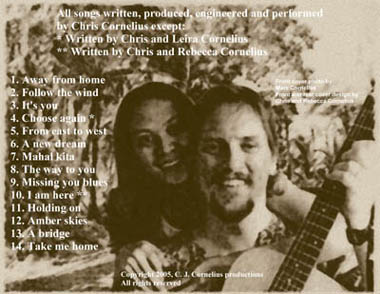 7."Mahal Kita" - These are the words for "I love you" in tagalog, the national language of the Philippines. Of course I wrote this song for my sweet mahal,Rebecca. To listen click here
8."The way to you" - After I went to the Philippines for the first time at the end of April 2005,I wasn't going to be able to return until December because of work. This song was my promise to her that I would return.
9."Missing you blues" - You know, seven months is a long time to have to wait to be with your soulmate in person again. I did however return in December.
10."I am here" - Rebecca and I wrote the words for this song together as an affirmation of the boundless love and caring we have for each other,that knows no distance.I also see an even deeper message in this song. To listen click here
11."Holding on"- I started writing this song in 1990 with no particular person in mind. It was my dream about being with my soulmate and awakening to the wonder of Divine Love and Eternal Life together. The dream is finally coming true.
12."Amber skies" - There are so many beautiful places in this world. I get such a warm feeling inside looking out over the ocean, illuminated under the hue of amber skies. This instrumental is my way of attempting to describe that feeling.
13."A bridge" - I wrote this song to express some of my deepest feelings to and for my kids. May we all find ways to attempt to bridge the gap that we may feel between ourselves and those we love so much.
14."Take me home" - I originally wrote this song for another singer that I was going to produce a couple years ago. She ended up abandoning the project but I liked the song so much that I decided it would be a fitting last song for this album. May we all find our way home to true Love,Peace and Joy!